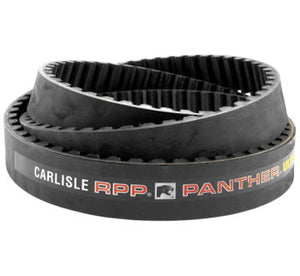 Carlisle Panther Final Drive Replacement Belts:
Spec:
Fitment:
Harley-Davidson 86-92, 1994 FXST, FLST

American Ironhorse
Developed to elevate the range of power transmission in synchronous belts. The reinforce parabolic profile (RPP) reduces synchronous drive noise, minimizes tooth jump and tooth shear, increases torque and power transmission capability, and improve meshing of the belt and sprocket. The premium compounds used in the RPP Panther provide a superb blend of belt strength and flexibility. This combination assures maximum horsepower and energy efficient flex life. Utilizes a specially designed fiber cord to resist shock loads, maximize power transfer range, and assure straight line tracking in the sprocket.